"We love your custom postcards. They are always a big hit with the grandparents. We use them for thank you notes all year." - Julie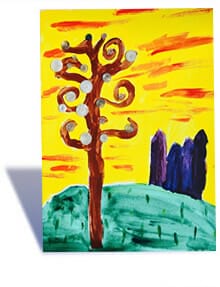 Custom Postcards are the perfect way to send a friendly greeting or an invitation to an upcoming event.
Postcards are 45⁄8 X 63⁄8, printed on recycled paper with your kid's brightly colored artwork on front and your personalized message on back. Postcards are available in sets of 8, 16, 25, 50, 75, or 100.
8 Postcards: $16.95
16 Postcards: $24.95
25 Postcards: $32.95
50 Postcards: $47.95
75 Postcards: $66.95
100 Postcards: $82.95