What could be more memorable than custom Holiday Cards created with your child's art? Our Holiday Cards are the ideal way to preserve these artistic treasures and share them with family and friends.
Create this year's custom Christmas Cards, Hanukkah Cards, or cards celebrating your own special holiday with your kid's brightly colored artwork on front and a personalized message inside. Add a second "masterpiece" or a favorite family photo on the inside for an extra special touch! Not celebrating a specific holiday, but want to create a custom card for a special event? That works, too!
Choose either 4 5/8 X 6 1/8 or 5 x 7. Cards are printed on recycled paper and include recycled bright white blank envelopes.
25 card set: starting at $49.95
50 card set: starting at $89.95
75 card set: starting at $124.95
100 card set: starting at $149.95
Additional quantities are available.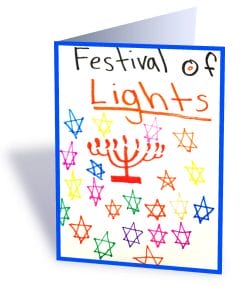 "THEY JUST ARRIVED...SO BEAUTIFUL! I am super excited to share these holiday cards with our family & friends." - LeeAnn