The PrintArtKids Mission is to foster children's creativity and enhance their self-esteem by preserving and transforming their artwork into functional, one-of-a-kind, custom stationery products that can be shared with family and friends.
---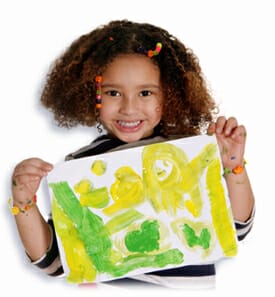 PrintArtKids is a MOM owned and operated small business. We transform YOUR KIDS' ART and favorite family photos into custom stationery and personalized gifts. Our products are innovative, unique, educational and entertaining - ideal for inspiring kids' creativity, a trait that is crucial to success in the classroom and beyond.
Like many parents, I save almost everything that my kids create; cartons and containers overflow with their art projects, kept from the time they were first able to hold a crayon. I love to look back at this artwork and reminisce about how proud they were to show off their creations!!
Whether you're a saver like me and keep everything, or prefer to keep only a few special pieces, don't let your child's artistic efforts go unnoticed. Preserve those cherished pieces and let PrintArtKids turn them into printed treasures that you, your friends and family will use and enjoy every day.
We make it easy to transform your child's vibrant flower painting into custom Notepads, handy for writing notes to teachers or for making to-do lists. Let us turn the favorite Christmas ornament that your son created in 3rd grade into this year's personalized Holiday Card and your daughter's finger painting from kindergarten into a one-of-a-kind Note Card. Imagine the excitement and pride your children will feel when seeing their artwork celebrated and enjoyed by family and friends!
PrintArtKids products are proudly created in the USA. When you order from PrintArtKids, you are also supporting other family-owned, small businesses. We love working with the artwork that comes through our site and appreciate that you trust us with your special, personal treasures.
Giving Back
PrintArtKids sponsors art fundraising programs in support of schools and non-profits. Our fundraisers provide a fun, hands-on way to raise funds for community and educational programs. Contact us to learn more!