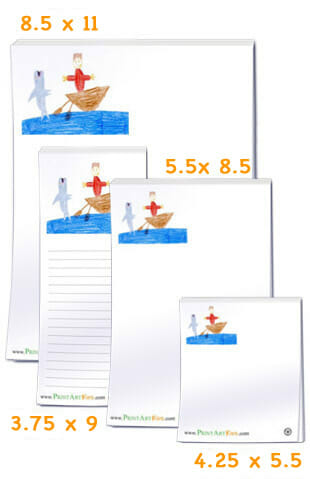 Notepads are perfect for writing notes to teachers, shopping lists and to-do lists.
Notepads are printed with 50 sheets of your kid's brightly colored artwork on every pad. Each set includes 4 same size pads, printed on recycled paper. Choose from four different size options, all available with or without lines. 3.75 x 9 notepads have a magnetic strip on the back.
4.25 X 5.5 (set of 4): $29.95
5.5 X 8.5 (set of 4): $31.95
3.75 X 9 (set of 4): $33.95
8.5 X 11 (set of 4): $42.95

"I LOVE the notepads I ordered with my son's footprints!
The quality is wonderful! I am so impressed! Thank you for
working so hard to make such a great product." - Alyssa F.