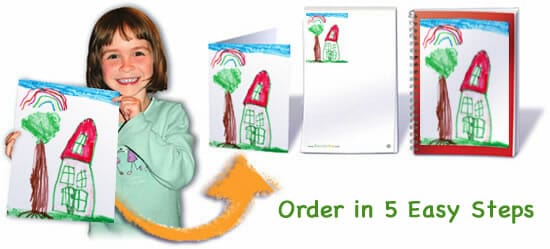 Step 1:
Choose a favorite from your kid's art collection, a new creation from this year's art class, one of your own "masterpieces", or a favorite photograph.
Step 3:
Select the item you wish to order from "Our Products," then click on "Order Now." If you are already on the ordering site, simply click on the item you wish to order from the Product dropdown on the left side of your screen.
Step 4:
Upload your image to the desired product template, then follow the easy, step-by-step instructions to create personalized Note Cards, custom Holiday Cards, Puzzles, Invitations, Postcards, Notebooks, Journals, Notepads, Return Address Labels and Gift Labels.
Step 5:
Add the item to the shopping cart and continue shopping or check out to place your order.
"Oh my gosh!! I just opened the order - they look fantastic!
Thank you so much for all your communication and work on this project. It turned out perfectly." - Dena (corporate holiday cards)