Lindsay Czarniak and PrintArtKids are on a mission to send love, hope and smiles!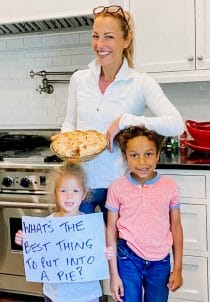 In my travels covering sports, I'm constantly reminded of the importance of personal connection. A smile, a hug, a conversation.
My "Joke of the Day" started as a way for me to entertain my young kids and kick off our day while homeschooling, like so many of you, during the pandemic.
What I discovered as I began posting the jokes is that it turned into a special way for me to connect with people from all over the country. I've loved hearing stories from parents, grandparents, friends, folks I don't even know, telling me how much they look forward to these daily jokes and the positive impact of a smile. Thank you so much for sharing your stories with me.
I love art! It's my therapy and something I love to do with my kids. It has become a go-to activity during the pandemic. My friend Abbe from PrintArtKids and I decided to create joke postcards featuring this art as a way to spread the smiles beyond social media. My kids and I loved drawing and painting the art for the postcards! They also created the driveway chalk art used on the postcard borders.
Our hope is that these postcards will provide a way for you to send a bit of sunshine to a friend, a teacher, a family member - anyone who could use a pick me up.
For every set of postcards purchased, another will be donated to Make-A-Wish Connecticut. The joke packages will go into gift baskets for the hundreds of children whose wishes were postponed due to the pandemic.
Thank you for supporting our mission to spread love, hope and smiles!

With love,